Lighthouse Academy- Waalkes
Lighthouse Academy - Waalkes is partnered with the Kent County Juvenile Detention Center and provides a whole child approach to education for young adults inside the facilities.
Students may choose to continue their enrollment at Lighthouse Academy upon release through Lighthouse Academy - The Port, a divergent program set up to meet the flexibility and demands of a non-traditional learner. This program runs virtually during afterschool hours.
Lighthouse Academy - Waalkes
Karen Conover
Office Manager
Office Hours:
8:00am - 4:00pm
School Hours:
8:30am - 4:00pm
March 24, 2023
Lighthouse HR Spotlight 3.24.23
March 13, 2023
3/28/2023 Regular Board Meeting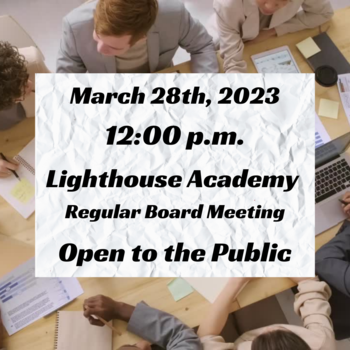 Calendar
Calendar

Previous

March

2023

Next

S
M
T
W
T
F
S
1

Mar 1

Calendar:

Lighthouse Waalkes

2

Mar 2

Calendar:

Lighthouse Waalkes

3
4
5
6
7
8
9
10
11
12
13
14
15
16

Mar 16

District Professional Development Day (No Students)

Calendar:

Lighthouse Waalkes

17
18
19
20
21
22
23
24
25
26
27
28
29
30
31

Mar 31

Spring Break 2022-2023 (No School)

Calendar:

Lighthouse Waalkes